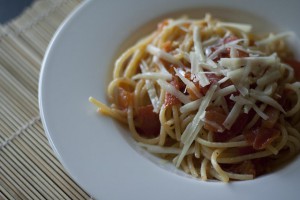 It feels ridiculous to create a dish and then say how good it is, which is what I'm about to do. This kind of behavior happens because when most of us home cooks whip up something from our heads, we're often as surprised as anyone might be that it seems to have worked out. (I look with awe upon really good professional chefs who are artists in their work.) But every once in a while in my little kitchen world, something makes me snap to attention, and I say to myself, now this makes me happy. This recipe is one of them.  It's what happened when I combined many things I adore in one dish—and created, to my own surprise, Brown Butter Pasta with Lemon, Capers, Parmigiana Regiano Cheese, and Prosciutto. It's a snap to do, but make a lot of it.
After I told chef  and home cook Chris Prosperi what I had in mind, the two of us served it to the Food Schmooze crew and waited. This isn't bragging, it's astonishment — they went for it in a big way;there wasn't a speck left in the bowl. Please don't be afraid of browning the butter; Chris and I tell you how. By the way, this dish can easily be made gluten-free.
BROWN BUTTER: Put a stick of unsalted butter in a pan on medium-high heat and let it melt. Stir gently with a spatula as the stick melts and watch for two things —a nutty aroma and a color change to light or hazelnut brown. As soon as that happens, remove it from the heat. That's all there is to brown butter. You do want to watch it carefully because it can change color on you quickly. Try not to let it burn, but if it does smell or look burned, wipe out the pan and do it again; all it cost you was a stick of butter.  (Remember, Julia Child instructed us to raise hell in the kitchen.)

Put on water to boil for pasta. About half-way through the cooking time, begin the butter.

To brown butter, place one stick of unsalted butter in a large fry-pan set on medium-high heat. Stir gently and watch carefully until the butter has a nutty aroma and turns light brown. Remove from heat until pasta has been drained.

Return the brown butter to the stove top on medium heat. Toss in the capers, lemon juice, prosciutto, and scallions for one minute, stirring. Add the cooked pasta to the pan, along with the freshly–grated Parmigiano-Reggiano. Toss well to coat and warm up, and then serve on a platter or individual plates. Just for fun you can decorate with slices of fresh lemon.
If you are watching your butter intake, you can use a half-stick of butter and a ¼ cup of extra virgin olive oil. While it won't taste precisely the same, have no fear—it's close enough. Your health matters to us.