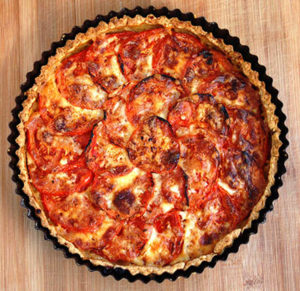 When we started thinking about recipes to help us celebrate Earth Day 2017, Faith immediately said, "tomato tart." We knew we'd be sharing the tart with Barbara Pierson of White Flower Farm, and we wanted to get inspired for White Flower Farm's Great Tomato Celebration just around the corner—the weekend of May 19. And because the Earth always provides, Jovial Foods, Inc. co-founder and friend-of-the-show Carla Bartolucci shared a recipe that Chris Prosperi served with a beautiful salad made with fresh greens from Granby's Holcomb Farm.
It was one of our all-time favorite pre-show meals. Someone may have even said something about the tart being better than pizza. Those are fightin' words in our neck of the woods—New Haven. The tart's crust is made with einkorn flour. Einkorn is an ancient wheat that some people with gluten-sensitivity are able to tolerate. Carla and her husband, with the help of Italian scientists and farmers, have brought this wheat back from the edge of extinction. Sometimes it's the Earth's people who provide.
We share the recipe with you now, with our thanks to Carla, along with a wish that you find yourself in the kitchen this Earth Day making something this good.
Recipe and image courtesy of Carla Bartolucci, Jovial Foods, Inc.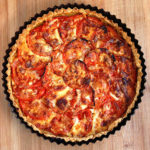 For the tomato tart filling
In the bowl of a food processor add flour and salt. Pulse to combine.

Add butter and pulse until combined but not over-mixed, you should still be able to see pieces of the butter-chunks, (to mix by hand combine dry ingredients in a large mixing bowl then cut in butter with a pastry cutter).

With the machine running, add ice water just until the dough holds together without being wet or sticky, not more than 30 seconds.

Test by squeezing a small amount of the dough together if it's still too crumbly add a bit more water, one tablespoon at a time.

Divide dough in half and place each half on a piece of plastic wrap. Flatten into disks, wrap in plastic, and refrigerate 1 hour or overnight. The dough can be frozen up to a month; thaw overnight in a refrigerator.
Make the filling, assemble the tart
Place garlic on aluminum foil or in a garlic baker. Drizzle with 1 tablespoon of olive oil, if using aluminum foil, encase garlic and seal edges well, and place on a small baking sheet.

Roast in oven until golden brown (about 45-55 minutes) remove from oven & set aside.

Raise oven temperature to 425°F.

When garlic is cool enough to handle, squeeze cloves out of their skins into a small bowl. Mash with a fork and set aside.

On a lightly floured work surface roll out the dough to a 13 inch round about 1/8-inch thick. With a dry pastry brush remove excess flour. Fit the dough into a 10 inch fluted tart pan with a removable bottom, pressing into the edges. Using a rolling pin or a sharp paring knife trim dough flush with the top end of the tart pan; chill tart shell until firm about 30 minutes.

Spread the roasted garlic evenly on the bottom of the chilled shell.

Sprinkle with a 1/4 cup of the shredded cheese. Shingle the tomato slices in an overlapping circular pattern on top of the cheese. Working from the outer edge toward the center. Season with salt and pepper. Sprinkle with remaining cheeses and drizzle with remaining olive oil.

Reduce oven temp to 400°F and place tart on baking sheet in center rack of oven.

Bake until crust is golden and tomatoes are soft but still retain their shape. Cook time is 45-55 minutes. Cool on wire rack for 20 minutes. Sprinkle fresh basil or arugula on top and serve warm.