Food Writer and cookbook author Charlotte Druckman created this slaw to top her Lazy Cheese Arepas. The slaw makes a cool crunchy contrast to her warm, cheesy Colombian-style arepas.
From Stir, Sizzle, Bake by Charlotte Druckman. Published by Clarkson Potter/Publishers. Copyright © 2016 Charlotte Druckman, Photographs Copyright © 2016 Aubrie Pick.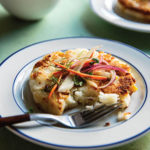 In a medium bowl, toss the jicama, apple, carrot, fennel, and onion together so all the ingredients are evenly dispersed.

In a small bowl, whisk together the lime juice, vinegar, and honey until the honey has dissolved. Add the chili powder and whisk to combine. Slowly stream the olive oil into the bowl and continue to whisk so the dressing emulsifies. Season the dressing with the salt.

Add the dressing to the vegetables, using your hands or a spoon to toss or stir to ensure the vegetables are evenly coated. Mix in the cilantro. You can serve the slaw right away, but it will improve if you leave it in the fridge to marinate for a couple of hours.