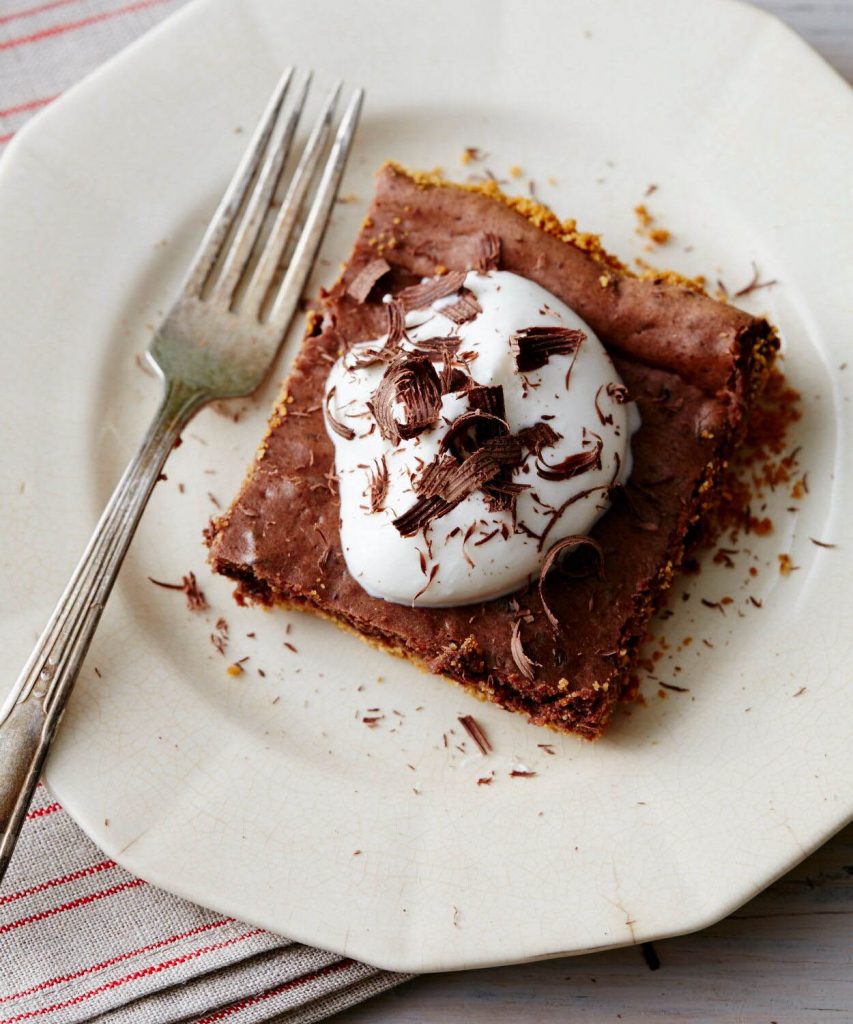 This one's got about as much chocolate as we can force into a cheesecake: ground in the crust, melted into the batter, and even shaved on top. We wouldn't want to shortchange any chocolate lovers! Note that the recipe calls for low-fat or fat-free Greek yogurt. Full-fat proved far too rich, almost unctuous.
— Bruce Weinstein and Mark Scarbrough
• ON-DEMAND: Listen to Faith and the gang talk to Bruce about this recipe, as well as many other party-worthy dessert recipes on The Faith Middleton Food Schmooze®. •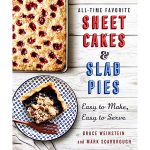 Excerpted from All-Time Favorite Sheet Cakes & Slab Pies by Bruce Weinstein and Mark Scarbrough. Published by St. Martin's Press Copyright © 2017 by Bruce Weinstein and Mark Scarbrough. Photo © 2017 by Eric Medsker.

Position the rack in the center of the oven. Heat the oven to 350°F. Generously butter the inside of a 13 x 18-inch lipped sheet pan.

Mix the chocolate graham cracker crumbs, melted butter, confectioners' sugar, and milk in a large bowl until uniform and moistened. Pour and spread this mixture into the prepared pan, then use clean, dry fingers to press it into an even crust across the bottom and up the sides of the prepared sheet pan.

Using a handheld electric mixer or a stand mixer with the paddle attachment, beat the cream cheese and white sugar in a large bowl at medium speed until light and smooth, about 3 minutes.

Beat in the yogurt until smooth. Beat in the eggs one at a time, then beat in the melted chocolate and cocoa powder until evenly distributed. Scrape down and remove the beaters or paddle.

Using a silicone spatula, fold in the chocolate chips until evenly distributed. Pour and spread this mixture into the prepared crust.

Bake until puffed and set with the barest jiggle at its center when tapped, about 35 minutes. Cool in the pan on a wire rack to room temperature, about 3 hours. Cover loosely with plastic wrap and refrigerate for at least 6 hours or up to 2 days.

Spread the whipped cream evenly over the cheesecake. To make chocolate curls, run a vegetable peeler down the long side of the chocolate bar or across a flat surface of the chunk, letting the resulting curl fall onto the cheesecake below. Soldier on until the cake is evenly covered with the curls.
TESTER NOTES
You may not use all of the chocolate to make the curls. You need a large enough block so you can hold it steady.