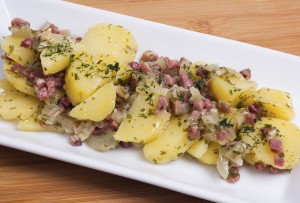 We love chorizo, especially Palacios brand, and so Chris Prosperi has created a potato salad using this dry cured chorizo, mixed with vinegar and capers. When he fries the chorizo, it releases its paprika oil and adds to the knock-out flavor combo.

Place cubed-cooked potatoes in a large mixing bowl. Add the cooked chorizo sausage with the oil from the pan. Add the chopped scallions, maple syrup, red wine vinegar, and capers. Mix well.

Season with salt and pepper.

Taste and adjust with seasonings.