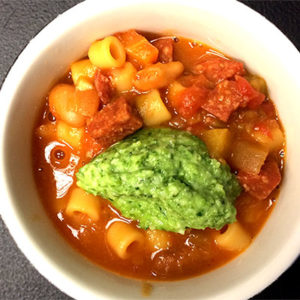 Chris Prosperi adds a stick of pepperoni to his Pasta Fagioli. It's not classic, but it works. Another element that works: A dollop of pesto as the finish. It takes this Italian soup over the top.
ON-DEMAND: Listen to Faith and the gang discuss this recipe on The Faith Middleton Food Schmooze®.

Heat oil in a large soup pot and add the chopped onion, carrot, celery and pepperoni. Cook stirring occasional for 5-7 minutes. Pour in the white wine and reduce to almost dry. Next add the chopped tomatoes and drained beans and mix well. Pour in the broth and water and bring to a simmer. Simmer for 15-20 minutes. Stir in the fresh oregano and cooked Ditalini pasta. Serve with grated parmesan and a dollop of pesto.