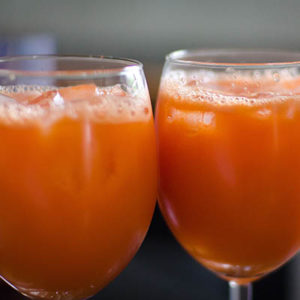 From Faith: We loved the last carrot juice cocktail our contributor Anthony DeSerio made for us, and that had us wondering what else he might have up his sleeve… in an hour he created a health-conscious twist on the classic Dark & Stormy, combing three juices — carrot, grapefruit, and apple — with light rum and a splash of your favorite ginger beer. (See NOTE below.)
As a well-trained Connecticut bartender, Anthony is used to coming up with traditional cocktails for customers, but we think he's especially talented creating new ones for us. If the night's not too busy at your local bar or restaurant, don't be afraid to ask a skilled bartender to have a little fun on your behalf.

Add all the ingredients except the ginger beer to an ice-filled cocktail shaker and shake away. Strain the liquid into an ice-filled wine glass or a tall cocktail glass. Top it off with a splash of ginger beer. To make it look snazzy, add a long twist of grapefruit peel to the glass.
NOTE: Ginger beer is often available at liquor stores, supermarkets and gourmet spots. We know of a dazzling ginger beer made and sold by two Rhode Islanders. Karl Spaeth and Cecily Slocum have created Temple of the White Dog Ginger Beer, based on Spaeth's brewing stint in Costa Rica.  It's made from fresh lime juice, organic cane sugar, a raw ginger decoction, then fermented the way sauerkraut is. Check out the couple on Facebook.