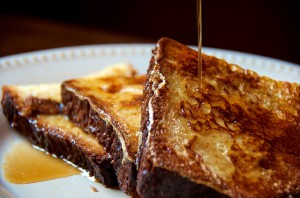 It's French toast, what can we say? Well, we can say it soars when you dip Challah bread in coconut milk!

Preheat the oven to 375°.

Heat a large skillet over medium-low heat. While the skillet is heating, spread a layer of cream cheese on 2 slices of bread, then top each one with the other 2 pieces of Challah to make a sandwich.

Whisk together the eggs, cream, coconut milk, sugar, and vanilla in a large bowl. Transfer the mixture to a large baking dish and soak the sandwiches in the mixture for about 30 second on each side, allowing them to absorb the custard.

Melt the butter in the hot skillet. Add the sandwiches and cook until golden brown on each side, about 2 minutes. Transfer to a baking sheet and cook in the oven for another 5 minutes.

Cut the French toast on the diagonal to make four triangles. Place two pieces on each plate. Top with a small handful of berries and some real maple syrup.