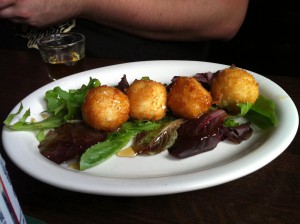 From Faith — Picture this… a big salad with greens of your choice, dressed with a balsamic vinaigrette and topped with Goat Cheese Honey Poppers; softened goat cheese rolled into balls and mixed with herbs and honey, then pan-fried to a crisp in a little oil. They're warm and oozy on the inside, offering the tang of goat cheese against the sweet honey, and encased in a textured Panko crumb.
An old friend used to serve these to me at her parties, and last night I spent two hours searching the Internet, but it was worth it; there was the recipe! This is the perfect comfort food.

Combine flour and black pepper in a small bowl. Whisk together egg, 1/4 teaspoon sea salt, and 2 tablespoons water in a second small bowl. Combine panko and remaining 1/2 teaspoon sea salt in another small bowl.

Roll goat cheese into 24 balls (about 1 tablespoon each). Roll each goat cheese ball in flour mixture, dip in egg mixture, and dredge in panko mixture. Freeze 20 minutes or until firm.

Heat oil to 350° in a deep saucepan over medium-high heat. Fry goat cheese, in batches, 1 to 2 minutes or until golden and crisp on all sides. Remove with a slotted spoon, and place on paper towels to drain.

Arrange goat cheese poppers on a platter, drizzle with honey, and sprinkle with chives and red pepper. Serve immediately.