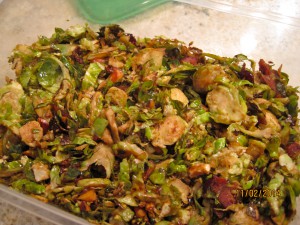 When Food Schmooze® listener Danielle Padula sent us this one, we started drooling over the ingredients. Crispy bacon, almonds, dried cranberries, orange zest…and it's all done on the stove-top. Faith's sister, Sally, just laughs because Faith insists she's also bringing this to family Thanksgiving. (That would bring her total to 17 dishes.)
(Food Schmooze® listener Danielle Padula, is a home cook, food writer and staffer in the test kitchen at Fine Cooking magazine.)

In a 12-inch skillet, heat bacon on medium heat, browning both sides until crisp. In the meantime, combine the vinegar, cranberry sauce, honey, zest, rosemary, 1/8 tsp. of salt, and 1/8 tsp. of pepper in a small bowl and whisk until emulsified.

Transfer bacon to a napkin-lined plate to drain and add the Brussels sprouts to the residual bacon fat, stirring with a wooden spoon to quickly soften, about 1 minute.

Add the liquid mixture, cranberries, and almonds to the pan, and stir to combine. Cover, stirring occasionally, until parts of the sprouts are lightly browned and almonds are fragrant, about 5 minutes. Season with salt and pepper to taste, and serve immediately.