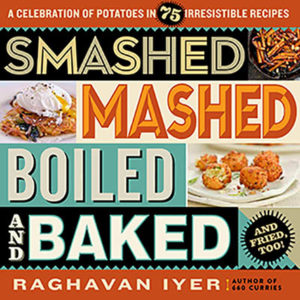 I love a little saucy heat alongside the Potato Leek Pie. A great balance is essential in terms of a satisfying mouthful. Here is a simple sauce to put together as the pie bakes.
Excerpted from Smashed, Mashed, Boiled, and Baked – And Fried, Too! By Raghavan Iyer. Published by Workman Publishing Co., Inc. Copyright © 2016 Raghavan Iyer.
ON-DEMAND: Listen to Faith and Raghavan Iyer talk about his Potato Leek Pie recipe, as well as other recipes from Raghavan's book.

Blister the jalapeños in a small dry skillet (I usually use a cast-iron pan) over medium-high heat, making sure you flip them occasionally for a relatively even blister, 5 to 7 minutes. Cut off and discard the stems. Transfer the chiles to a blender jar.

Sprinkle the cumin seeds into the hot pan and allow them to toast until they smell nutty, barely 5 seconds. Add them to the chiles. Pour in the cream and add the tomato and salt. Puree the medley into a smooth sauce, scraping the inside of the jar if needed to ensure an even blend.
You can also serve this dip with Ultimate French Fries—so much more satisfying than ketchup—or even with a bowl of potato chips.