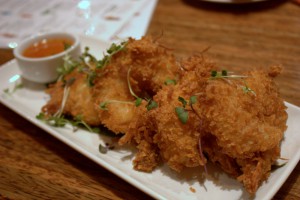 From Faith: Even though it's grilling weather, I will turn on the oven and broiler for this delicious dish, shrimp crisped with coconut and served alongside rice sparked up with lime zest and coconut water. I prefer the broiler because I'm able to control the heat better than I can with an outdoor grill. (No flare-ups and burned coconut.)
Essentially, this recipe asks us to dip the shrimp in a little beaten egg and panko, the lighter Japanese breadcrumbs widely available in any supermarket. The rice is a snap. Served with a few lime wedges, this dish is pure pleasure. (I found it in Food Network Magazine six months ago and have made it countless times since, often just for myself on a busy weeknight, alongside a salad in place of the rice.)

Preheat the oven to 425° degrees F. Line a rimmed baking sheet with foil and set a wire rack on top; coat with cooking spray. Combine 1 cup water, the coconut water, rice and lime zest in a medium saucepan and bring to a boil. Reduce the heat to medium low; cover and simmer 8 minutes. Remove from the heat; add the carrots, red onion, 1/4 teaspoon salt and a few grinds of pepper (do not stir). Cover and let sit 10 minutes, then fluff with a fork to combine. Discard the lime zest.

Meanwhile, season the shrimp with salt and pepper. Beat the egg and 2 tablespoons water in a bowl. Combine the coconut and panko in another bowl. Dip the shrimp in the egg mixture, then the coconut-panko mixture, gently pressing to adhere; transfer to the prepared rack. Bake until the shrimp are cooked through, about 10 minutes.

Turn on the broiler. Broil the shrimp until golden brown, 1 to 2 minutes. Add the cilantro to the rice mixture and toss. Serve with the shrimp and lime wedges.