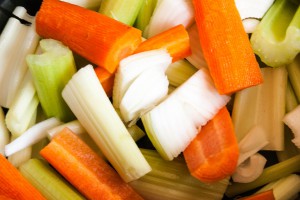 From Alex Province : Put on a big pot of water, throw in the turkey carcass, and you'll have the base for a fantastic "freezer" soup before you know it. That's what Matt and I do every Thanksgiving night while cleaning up the kitchen. Here's the formula… turkey carcass plus aromatic vegetables and simmering makes a rich stock that can be used for soup, as the liquid for cooking rice, or to make soupy noodles when there's a chill in the air. You can also add some of this stock to turkey chili to give it richness.

In a large stock or pasta pot, add the turkey carcass and vegetables and cover with water. Bring it to a simmer.

When froth forms, skim and remove it with a large spoon, then add salt and peppercorns. Continue simmering for 2 to 3 hours. The liquid will reduce slightly.

Carefully strain the hot liquid through a sieve, being sure to press the vegetables and bones with the back of a wooden spoon to extract the flavor.

Divide the liquid into several containers and place them in the refrigerator to cool. They will last several days in the fridge or freeze them, as we like to do, for future use.