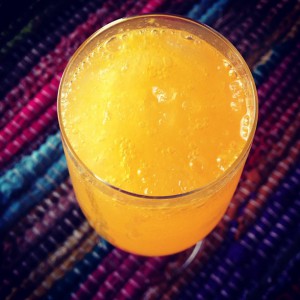 While clementines are in the market, why not try cocktail contributor Anthony DeSerio's  creation? His "Oh My Darling" cocktail pairs gin with the sweet, slightly tangy citrus. No clementines at your market right now? The recipe is just as delicious made with a fresh orange, or really any seasonal fruit you love.
Anthony DeSerio is a Connecticut bartender and member of the U.S. Bartenders Guild, Connecticut Chapter.
Mix 1/2 cup honey with 1/2 cup hot water and stir until honey dissolves. Let it cool. (It can be stored in the refrigerator and used to sweeten iced tea or coffee.)

In a lidded jar or cocktail shaker, add the honey syrup, the citrus juices, gin, and salt. Shake well and strain the drink into an ice-filled wine glass. Top it with a splash of tonic water and garnish with orange and lemon zest.