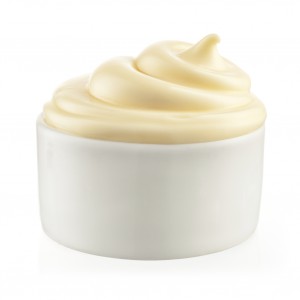 This is a low-fat, vegan version of mayonnaise. Andrea Nguyen says, "The keys to this recipe are draining silken tofu for a creamy texture, employing xanthan gum to bind and thicken, and masking the soy flavor."

Cut the tofu into 3/4-inch (2-centimeter) chunks and set on a super thick layer of paper towels (I fold an extra large one to make 6 layers). To drain, set aside for 5 minutes if using water packed silken tofu, or 10 minutes if using custardy tofu. You should net around 7 1/4 ounces (220 grams).

Blot excess moisture from the tofu, then transfer to the bowl of a food processor or the jar of a blender. Add the salt, garlic, mustard, and lemon juice (or vinegar). Whisk together the xanthan gum and oil, then add to the processor; you don't have to stream it in like regular mayo. Run the machine for about 30 seconds, or until a thick, creamy mixture forms. You should be able to plop it from a knife. If it's runny, blend in 1 or 2 extra pinches of xanthan gum. The mayonnaise firms up and the flavor intensifies during resting. Adjust the flavor as needed with salt, mustard, lemon juice, or vinegar. Transfer to a jar then let sit for an hour before using; refrigerate for up to a week. If it separates slightly, stir it up.