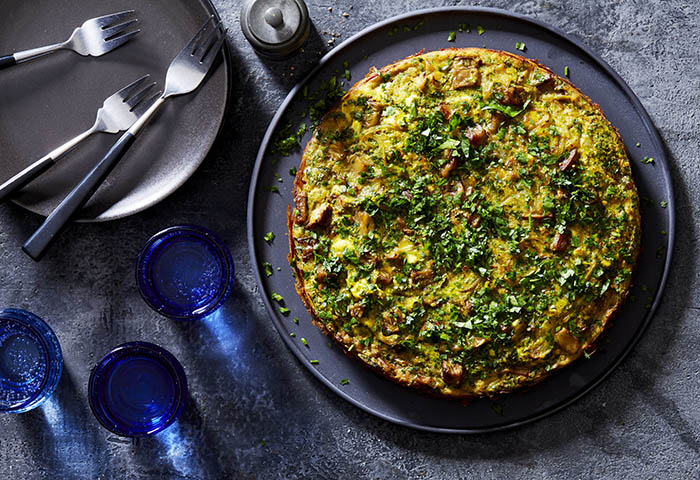 This Persian take on a frittata is packed with bites of creamy sautéed eggplant and a bundle of fresh, green herbs. A kuku is rarely out of place on an Iranian-Jewish table. It is usually served as part of the mezze spread or as a side dish, but it is hearty enough to stand alone as a main course, particularly at vegetarian meals. It can often be found at a festive Purim meal, in commemoration of the biblical story of Esther, which took place in ancient Persia. And thanks to the generous amount of oil that goes into a kuku, it is also a favorite dish for Hanukkah celebrations.
—Leah Koenig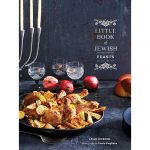 Reprinted from Little Book of Jewish Feasts by Leah Koenig with permission by Chronicle Books, 2018. Photo by Linda Pugliese.

Preheat the oven to 375°F [190°C] and brush a 9‑in [23‑cm] spring form or regular round cake pan with oil. Line the pan with parchment paper (use scissors to cut out a circle of parchment for the bottom and a long strip to wrap around the sides), then brush the parchment lightly with oil.

Heat the 1/3 cup [80 ml] oil in a large sauté pan over medium heat. Add the onions, season with a little salt, and cook, stirring occasionally, until soft and lightly browned, 8 to 10 minutes. Add the eggplant and continue cooking, stirring occasionally, until softened and lightly browned, about 10 minutes. Remove from the heat and let cool slightly.

Meanwhile, whisk together the eggs, flour, baking powder, parsley, oregano, garlic, turmeric, onion powder, red pepper flakes, 3/4 tsp salt, and a generous amount of pepper in a large bowl. Gently fold in the eggplant mixture and feta (if using). Pour into the prepared pan.

Bake until golden brown and cooked through, 35 to 40 minutes. Remove from the oven and set aside on a wire rack to cool for 15 minutes. Gently remove from the pan, peel off the parchment, and slice into wedges or squares. Serve warm or at room temperature. Store leftovers, covered, in the fridge for up to 3 days.