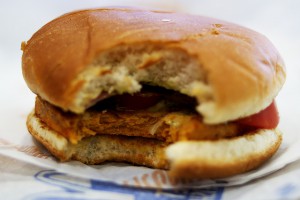 A decade ago we noticed a chicken and chive burger in The New York Times. On the prowl for a great alternative to beef, Faith clipped it out and started making this mouth-watering item every summer, as did her friends who asked for the recipe. Then New York's Shake Shack began doing a chicken chive rendition, and Martha Stewart's Lucinda Scala Quinn created her own riff on it in her book Mad Hungry Cravings. (She feeds lots of boys at home.)
Here's Faith's take on the chicken chive burger borrowing from all the recipes. Feel free to add and subtract as you see fit. Ask your butcher to grind the chicken for you, if you prefer, but be sure to include dark meat to keep it juicy and tasty. This recipe is easily made gluten-free by using appropriate gluten-free ingredients where necessary.
Preheat your outdoor grill or a grill pan to medium-high heat. Combine the chicken, salt, pepper, hot sauce, mustard, Panko crumbs, lemon juice and chives in a large bowl. Form into four 1/2-inch-thick burgers.

Grill the burgers, flipping until the juices run clear, about 8 to 10 minutes. Top the burger with cheese during the last minute of cooking, if desired, and close the grill hood or cover the pan to melt it.

Meanwhile, lightly brown the buns, if desired, or serve them pillowy soft. Add anything you like, including Boston lettuce, sliced red onion, pickles, mayo, chopped fresh cilantro, etc.
(Delicious with a chilled Italian pinot grigio or Austrian gruner veltliner.)