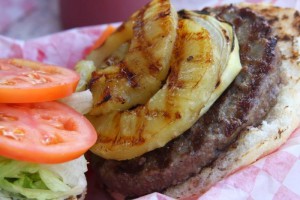 From Faith: Make it tropical and I'm all in. Bring on the drinks with umbrellas, the slide guitar or Miami salsa music, and think food inspired by palm trees and surf boards. That's what prompted me to create a Grilled Tropical Pork Burger studded with chunks of pineapple, a few spicy Asian ingredients and crispy bacon, all of which adds up to a sweet and sour experience both kids and grownups can enjoy.
If you're the type who likes to hear the sentence, "Please combine the first whatever number of ingredients," this is made for you. The only tiny amount of extra work is frying up a few strips of bacon until they're crispy. Pair this with our Sangria, or one of our many rum cocktails, and you're all set.
NOTE: If you don't feel like grilling, do these in a fry pan or under a broiler.

Pan fry eight strips of bacon until crisp and set aside.

In a large bowl combine the first six ingredients. Crumble the ground pork into the bowl and mix well. Shape the meat into 8 burgers, pressing the center of each patty with your thumb to make a slight indentation. (This keeps the burger from puffing up on the grill and cooking unevenly.)

Pour oil onto a paper towel and using tongs, oil the grill grate, if grilling. place pineapple slices on grill along with burgers. Flip pineapple so that both sides have nice brown grill marks. Set aside. Cook burgers to desired doneness, about 5 minutes per side, usually.

Place the grilled or broiled burgers on buns, add grilled pineapple and two bacon strips per burger.
NOTE: If you want to kick up the heat, add Frank's Hot Sauce to the meat mixture. To add decadence, serve each burger with a slice of Swiss cheese.