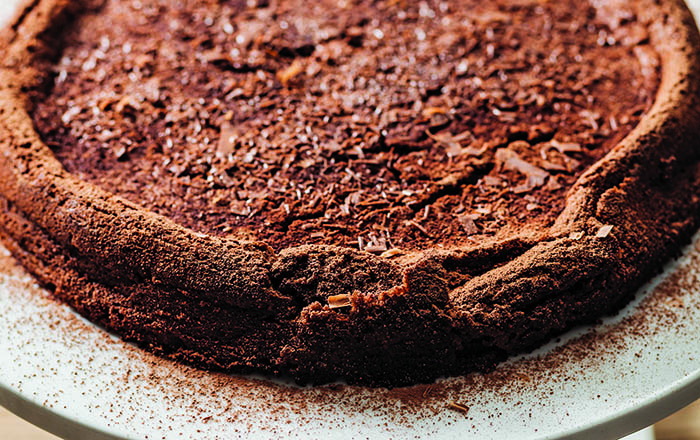 This is my favorite chocolate dessert of all time, possibly because it is like a giant slice of chocolate truffle heaven.  You don't taste the chestnuts at all, but they give it an extraordinary richness, and it truly is like eating a giant slice of light truffle.
I also love that it's flourless and only has a tiny amount of sugar.  If you force yourself to forget about the butter, this could almost be diet food…
Almost.
It is ridiculously easy.  I made this one morning, and left the house with an entire cake intact.  By the time I got back, the Smalls has attacked and there was less than a quarter left!
With thanks to High Fearnley-Whitingstall for his gorgeous recipe, which has only been changed very, very slightly.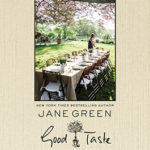 Reprinted with permission from GOOD TASTE, NAL Books, 2016. By Jane Green. Photo credit: Tom McGovern.
ON-DEMAND: Listen to Faith and Jane discuss this recipe—and others for the holidays. And read our review to learn more about Jane's new book.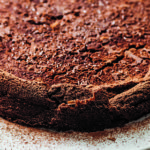 Preheat oven to 350 degrees.

Grease and line and 9" springform cake tin.

Melt the chocolate and butter together in a pan over a very gentle heat. In another pan, heat the chestnuts with the milk until just boiling, then mash thoroughly with a potato masher (or process to a rough purée in a machine).

Put the egg yolks in a bowl and mix with the sugar. Stir in the chocolate mixture, vanilla extract and chestnut purée until you have a smooth, blended batter. Whisk the egg whites until stiff and fold them carefully into the batter.

Transfer the mixture to the greased, lined tin and bake for 25-30 minutes, or until the cake is just set, but still has a slight wobble.

If you want to serve the cake warm, leave to cool a little, then release the tin and slice carefully – it will be very soft and moussey. Or leave to cool, when it will have set firm. It's good to serve it with a trickle of double cream, especially when warm, but it is also delicious unadulterated.