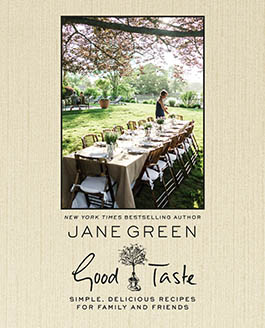 You probably know Jane Green from her bestselling novels, but it's her new cookbook you won't be able to put down. Good Taste started off as a Kickstarter self-published, limited-edition cookbook. It's well beyond Kickstarter now, and you'll want to cook from it this Thanksgiving, Christmas—and long after. You'll want to cook from it any time you invite friends over.
• ON-DEMAND: Listen to Faith and Jane discuss many of the recipes in the book. •
Jane LOVES entertaining, so her recipes are meant to be shared with family and friends. Indeed, the more the merrier. But, if you're feeding a crowd, it helps to keep things simple. In fact, Jane doesn't care for fussy food, so even party recipes follow the formula of simple ingredients, simply prepared. Most of her recipes fit on a single page and include readily available ingredients we all can pronounce. Now that's something to be thankful for.
Get a taste of the recipes in Good Taste:
Curried Parsnip and Apple Soup
Pumpkin Gingerbread Trifle
Flourless Chocolate Chestnut Torte
— Robyn Doyon-Aitken
Senior Producer