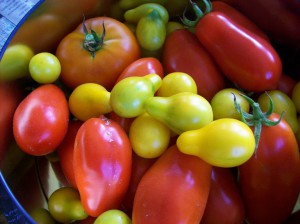 One of the simplest pasta sauces you will ever make, and what a summer dish to jazz up your table…the marriage of fresh tomatoes and a little butter. Italians have been making this for centuries; it's the richness of the butter with the acidity of the tomato that makes this a time-tested winner. As you'll see, the recipe says peel and seed the tomatoes, etc. Please feel free to follow the instructions to the letter, although we don't. We don't mind the skin and seeds at all, and it makes the recipe even easier. Serve this charmer over fish, chicken, and, of course, your favorite pasta, gluten-free or otherwise.

Melt the butter over medium heat in a large heavy saucepan.

Add the carrot and onion and cook, stirring occasionally, until tender and golden, about 10 minutes. Add the tomatoes and a pinch of salt and cook, stirring often, until the tomatoes are soft and the sauce has thickened, about 30 minutes. Let cool slightly.

Pass the sauce through a food mill or puree it in a food processor or blender. Reheat gently and correct the seasoning.

Just before serving, stir in the basil.