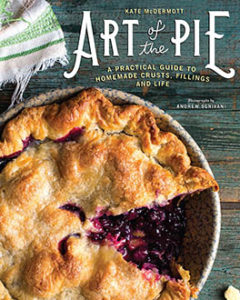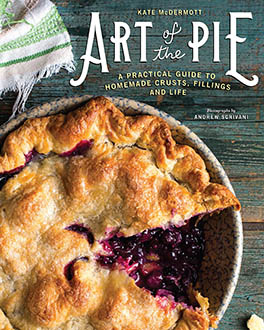 When baked, this dough will have a little freckling on top where the cheese bits make their presence known. As I am gluten-free, I use this dough to top off my savory pies, including my Sausage and Apple Pie.
Excerpted from Art of the Pie: A Practical Guide to Homemade Crusts, Fillings, and Life by Kate McDermott. Published by The Countryman Press • A division of W.W. Norton & Company. Copyright © 2016 by Kathleen L. McDermott, Photographs Copyright © 2015 by Andrew Scrivani.
On-Demand: Listen to Faith's conversation with Kate about Kate's famous Pie Camp and several recipes from her book, including Thanksgiving pie recipes and a savory supper pie.
Kate McDermott's Gluten-Free Flour Mix
To make 2-½ cups (396 grams), enough for one double-crust pie
Servings:
double-crust pie or 2 single-crust pies
For the Gluten-Free Flour Mix
Mix all ingredients together well in a big bowl.

Store in a glass jar or other storage container of your choice.

Note: Mochiko sweet mochi rice flour can be used in place of sweet white rice flour.
For the Gluten-Free Cheddar Cheese Dough
Place the flour mix, salt, butter, and cheddar cheese in the work bowl of a food processor and pulse to break up the pieces of fat incompletely.

Add the eggs, vinegar, and 2 tablespoons (30 grams) of ice water and pulse 5 to 10 times more. If it needs more water, add it now, 1 to 2 teaspoons at a time, and pulse again until the dough begins to come together without forming a complete ball.

Remove the dough from the work bowl, place it on a sheet of plastic wrap, and divide the ball of dough in half to form two chubby discs roughly the size of hockey pucks.

Wrap each disc separately in plastic, and place them in the fridge to chill the fats for at least one hour.
Unwrap one disc of chilled dough and place it on a large sheet of plastic wrap that has been dusted with sweet white rice flour or Gluten-Free Flour Mix (page 79). Sprinkle another teaspoon on top of the dough and cover it with an additional large sheet of plastic wrap.

With a light touch, quickly roll out the dough to approximately 9 to 10 inches (23 to 25 centimeters) in diameter and 1/4- to 1/2-inch thick (a bit less than 1 centimeter).

With plastic on BOTH sides, drape the dough over the rolling pin and carefully peel off the outer layer of plastic wrap. The inside plastic layer will be touching the pin.

Carefully place the dough-covered rolling pin in the middle of the pie pan.

Unfold the dough and keep the plastic wrap on.

Use your fingers to adjust and smooth the dough. There may be some overhang of dough on the sides of the pan.

With the plastic wrap still in place, place the dough-filled pie pan in the fridge or freezer for a few minutes to re-chill.

When chilled carefully, peel the plastic off using quick little tugs and fill the pie pan with already prepared filling.

Roll out the top dough as before and place it on top of the filling. Keeping the plastic in place, adjust the top as needed. Pinch off extra dough around the edge. With plastic wrap covering the edge, carefully crimp or finish as desired. Carefully remove the plastic wrap using quick little tugs.

To vent, cut one circle about 1½ inches (about 3.5 centimeters) in diameter and remove.

Chill until you're ready to bake.