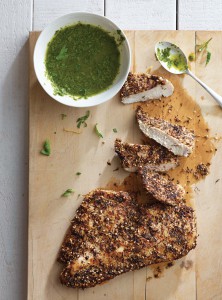 Za'atar is a Middle Eastern spice that has a reputation as a brain enhancer, according to cookbook author Rebecca Katz. It's an aromatic blend of thyme, sesame seeds, sumac, oregano, and marjoram that adds an incredible depth to this dish. Add it to most anything for an exotic flare—vegetables, salads, fish. You name it.
If you're looking for something different to do with chicken try this. Chef Chris Prosperi says it's restaurant worthy.
To make the za'atar, combine all the ingredients and mix well. Set aside 1 tablespoon to season the chicken and reserve the remainder for other uses.
To make the chicken, put the olive oil, za'atar, lemon zest, salt, and pepper in a small bowl and whisk until well blended.

Working with one piece at a time, put the chicken between several layers of parchment paper and pound with a meat pounder until about 1/4 inch thick. Put the chicken in a pan in which the pieces fit without overlapping. Spread the reserved tablespoon of za'atar evenly over the chicken, cover, and refrigerate for 15 to 30 minutes. Bring the chicken to room temperature.

Oil a grill or grill pan and heat to medium-high heat. Place the chicken on the grill and cook until the chicken is firm to the touch and the juices run clear, 2 minutes on each side.

Serve garnished with the parsley and the drizzle.
Combine the parsley, mint, lemon juice, 1/8 teaspoon salt, syrup, and oil in a food processor and process until well blended. For a thinner drizzle, add a tablespoon of water and briefly process again. Taste; you may want to add a pinch of salt.