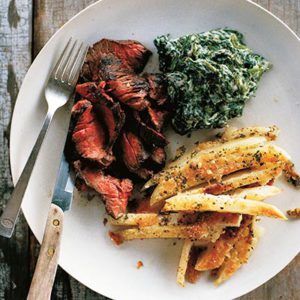 You can't beat a flavorful marinade for steak, especially for a cut like hanger, which has a wonderful toothsome texture. Its compact narrow, half-foot-long pieces make it easy to maneuver around a small grill. To serve, slice it on the bias, against the grain. With potatoes and vegetables, a little goes a long way in serving the boys.
Excerpted from Mad Hungry: Feeding Men & Boys by Lucinda Scala Quinn (Artisan Books). Copyright © 2009. Photographs by Mikkel Vang.
Read our book review to see more recipes from Lucinda's book.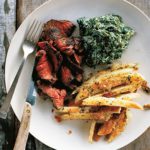 In a dish large enough to hold the meat, whisk together the wine, Worcestershire sauce, mustard, sugar, and pepper. Rub the meat with the garlic and place both in the marinade. Turn the meat to coat completely with the marinade. Cover and chill for at least 2 hours and up to overnight.

Bring the meat to room temperature. Prepare an outdoor grill or heavy sauté pan. Remove the meat from the marinade and pat dry. Generously salt and pepper both sides. Place on the hot grill, cover and cook for 4 minutes. Turn and cook for an additional 6 to 8 minutes for medium rare, 140 degrees on an instant-read thermometer. Let the meat sit for at least 5 minutes before carving. This can also be cooked under the broiler.