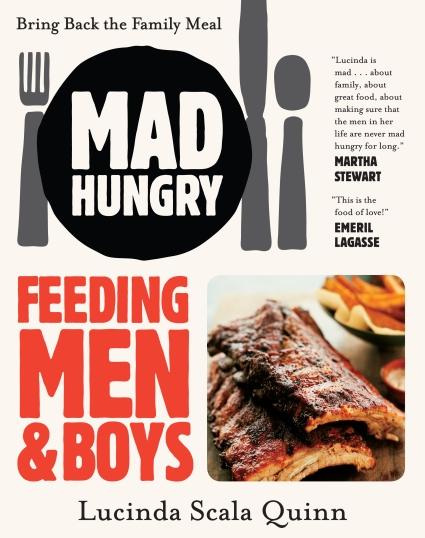 Because Father's Day is right around the corner, we asked Lucinda Scala Quinn, author of the Mad Hungry series, to come back on the show and talk about the first book in the series, Feeding Men & Boys. No one knows how to feed men and boys better than Lucinda, though these days, she's feeding more men than boys since her three guys are mostly grown and capable cooks in their own right.  Her third book in the series, Mad Hungry Family, is coming out this fall and is available on Amazon for pre-order right now.
Listen: Our Father's Day Food Schmooze® with Lucinda is available for on-demand listening.
Since dads almost always know their way around a grill and every man (whether he's a dad or not) should know how to grill a good steak, we asked Lucinda to walk us through her Grilled Hanger Steak recipe. Chris Prosperi made this for us for our pre-show meal, and we love its simplicity. The marinade is a simple red wine marinade, and all the ingredients are pantry staples. Young men, if you're ready to cut your teeth on the whole learning to grill a steak milestone, start here. Hanger is an economical cut, beefy, and as Lucinda says, toothsome. Go for it.
We tested another picnic classic from the book for Father's Day. Chris made us Lucinda's Quick Fried Chicken and aside from quick (this is weeknight fried chicken, guys. 45-minute fried chicken!) the word crispy comes to mind. Crunchy. Lovely. A pleasure eaten hot and right away or at room temp the next day. I loved it. If you like the greasy stuff in a bucket, this isn't for you.
Finally, in a nod to the universal truth that men love pie, Lucinda includes a few classics in Feeding Men & Boys that any dad would be happy to eat on Father's Day—or any Sunday. An old-fashioned apple pie. My husband's favorite, Banana Cream (see that universal truth). Check out Lucinda's recipe for Strawberry Rhubarb Pie. It's the perfect time for it—and it's Mark Raymond's favorite.
To learn more about the Mad Hungry series as well as Lucinda's other cookbooks, visit her web site madhungry.com.
—Robyn Doyon-Aitken
Senior Producer