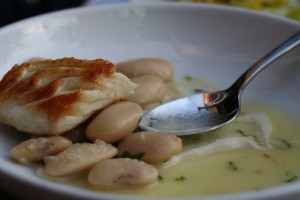 In one bite we were offering ohs and ahs as we took our first bites of Halibut Beurre Blanc, prepared for us by Chris Prosperi from Nina Planck's The Real Food Cookbook. While it sounds fancy because of the French reference, it's a simple butter and white wine sauce that would make any piece of fish into something delectable. The best additional thing, as far as we're concerned, is that it's not hard to make. By the way, Nina is one of the prime forces behind green markets in New York.

Put the shallots, wine, and vinegar in a saucepan and simmer until almost all the liquid is gone. Do not allow the shallots to brown.

Cut the butter into cubes and add to the pan. Whisk continuously over high heat until all the butter has melted.

Adjust the sauce as needed. A "flat" sauce may need a few drops of wine vinegar, if it is too sharp, add more butter.

Season with salt. Fine chefs strain out the shallots.

Season the fish with salt and sauté in a little olive oil or butter. Turn it once, let the other side color, and serve it immediately with beurre blanc and minced parsley.