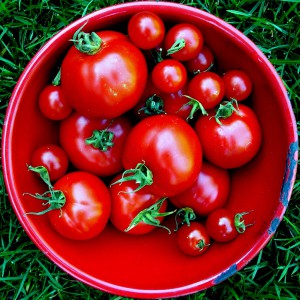 Too many tomatoes? Never.
Try adding something special to your grilled burgers and dogs this summer… homemade ketchup. Check out the post from The Salt for an interesting history on the sweet, red, spreadable condiment.
NPR's Melissa Gray tracked down a great old recipe. You may never want the bottled stuff again.

Remove bad parts from the tomatoes. Wash and quarter them and add them to a very large stock pot, along with the onion, garlic, and cayenne pepper. Crush that mixture a bit to provide some liquid. Bring to a slow simmer for 30 minutes. Let cool.

Run the contents of the stock pot in batches through a food mill. The old-fashioned kind of food mill with a fixed fine disk works best.

Return the milled mixture to the stock pot and simmer very slowly (to keep the tomatoes from burning), until the volume is reduced by about one-half. It should have the consistency of thick tomato sauce. This step may take six to twelve hours, maybe more, depending on the tomato variety. Let cool.

Run the contents of the stock pot in batches through a blender.

Return the mixture to the stock pot and bring to a simmer until the mixture is the consistency of commercial catsup. This step may take six hours or more.

Add the remaining ingredients, bring to a simmer, and reduce to the desired consistency.

Prepare a canner with jars and and lids sufficient for about 8–10 pints of catsup: Fill canner with water to at least 1 inch above tops of jars, and add a little vinegar. Bring to boil for 15 mins. Place lids, funnel, tongs, and ladle in saucepan with water, bring to a low simmer.

Use the tongs to remove the jars and lids one at a time from the canner, pouring the jar water back into the canner. Fill each hot jar with catsup, leaving 0.5-inches of head space. Wipe the rims of the jars, affix the lid, screw the band on finger tight, and return to the canner. Replace the lid on the canner and process in boiling water bath for 15 minutes. Remove jars from canner, listen for a ping as the catsup cools and the lid pops into place. Test the seal by pressing down on the lid; it should not give. Let the jars rest until cool. Store in a dark place.