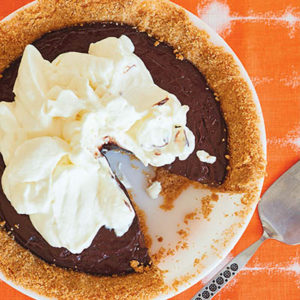 I'm including this recipe here just in case you are the one launching the chocolate pudding pie tradition at your table and do not have to tussle with pie ghosts of Thanksgivings past.
ON-DEMAND: Listen to our conversation with Jenny Rosenstrach, where we talked about her mother's Jell-O® pudding version, the inspiration for Jenny's homemade spin.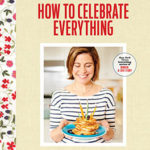 Excerpted from How to Celebrate Everything by Jenny Rosenstrach. Published by Ballantine Books, a division of Penguin Random House. ©2016 Jenny Rosenstrach, photography by Chelsea Cavanaugh.

Preheat the oven to 350°F. In a food processor fitted with a metal blade, process the honey graham crackers until they resemble fine crumbs. Add the melted butter and sugar and pulse to combine until the crust just comes together and slightly holds a shape when pinched between two fingers. Using your fingers, firmly press the mixture into a 9-inch pie dish. Bake for 10 minutes. Cool.
In a medium bowl, whisk together the milk and yolks. In a heavy medium saucepan, whisk together the sugar, cocoa, cornstarch, and salt. Whisk in the milk mixture until thoroughly combined, then turn on the heat to medium. Cook, whisking constantly, until the pudding thickens and comes to a boil, about 5 minutes. Continue boiling for 1 more minute, whisking constantly so it stays smooth. Remove the pudding from the heat and add the vanilla. Cool for 10 minutes. Pour the pudding into the prepared crust. Allow the pie to cool, then cover with foil or plastic wrap and chill for at least 6 hours (and up to 24). Serve topped with freshly whipped cream.