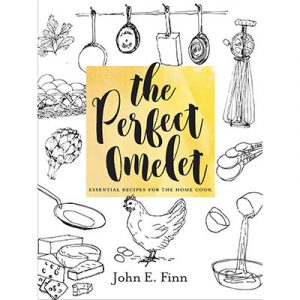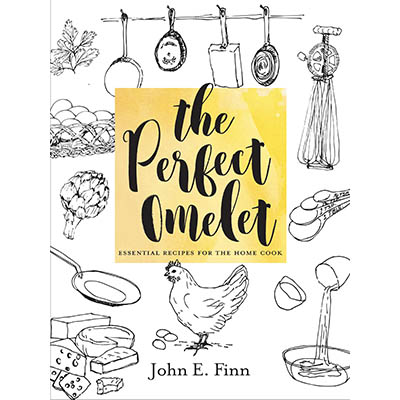 This is my favorite omelet. I like it more than I like my wife, more than I like my kids, and almost as much as I like my dog. It is also one of the oldest of dessert omelets, simple to make and spectacular to serve.
— John E. Finn
• ON-DEMAND: Listen to Faith and the gang talk to John about this omelet and more recipes from John's book. •
Excepted from The Perfect Omelet: Essential Recipes for the Home Cook by John E. Finn. Published by The Countryman Press, ©2017 John E. Finn. Illustrations by Diane L. Wright.

Stir the egg yolks with a whisk until they are light and pale. Whisk in 1 to 2 tablespoons of the rum.

Whip the egg whites in a separate bowl with the cream of tartar, 1 tablespoon of the sugar, and the salt until soft peaks form.

Gently fold the whites into the yolks.

Preheat a nonstick, 8- or 9-inch skillet over medium to medium-high heat.

Melt the butter in the skillet, swirl to coat the pan, and when the butter bubbles and sizzles but is not smoking or brown, pour the eggs into the pan.

Let the eggs sit quietly for about 10 seconds. Then, grabbing the handle of the pan and using a spatula, stir the eggs in the pan. At the same time, using crisp, short motions, keep the skillet moving back and forth.

When the bottom of the eggs begin to set, lower the heat to medium-low and let the omelet cook until the eggs cook through and the bottom of the omelet turns a light or golden brown, about 3 to 4 minutes. If the top of the eggs seem not to finish, you can speed things along by covering the pan with a lid for about 1 minute.

Using a spatula, gently fold the omelet in half, moving from the outside of the pan to the inside. Sprinkle the omelet with the remaining teaspoon of sugar and an additional tablespoon or two of rum to flambé, if desired.

Turn out the omelet onto a plate. Spoon the rum sauce over the top of the omelet. Serve immediately.
Variations: In place of the rum, try a nice sherry, perhaps an amontillado, or for something very different, limoncello accompanied by grilled lemons.
It is wildly untraditional, but crushed Butter Rum Lifesavers candy make the best garnish for this omelet.
Rum Sauce
¼ cup light brown sugar
¼ cup unsalted butter
1/3 cup heavy cream
3 tablespoons rum
Place all the ingredients in a medium saucepan over medium-high heat.
Bring the sauce to a gentle boil and let cook for about 3 minutes, stirring constantly to prevent scorching.