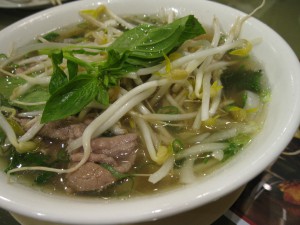 Senior Contributor Chris Prosperi has reinvented Pho, the Vietnamese soup, enabling us to use supermarket ingredients to make this satisfying broth filled with good things.
Pho is so beloved that Pho restaurants are popping up all over our region, including one that Chris says is among the best in the country…Pho Ethan in Wallingford, Conn. (It's a simple place in a shopping center.)
In Chris's recipe, pho is a combination of beef broth, thin-sliced beef, Asian fish sauce, a little sugar, and rice noodles. The fun begins with the add-ins, such as basil, mint, tomato, scallions, and jalapeno. Again, everything can be found in your supermarket, and the point is to add more of whatever flavor you love, or skip what you don't love.
Bring the beef broth to a simmer in a small pot over medium high heat. Add the fish sauce and the sugar a little at a time, tasting for strength. How much should be used will be determined by the strength of the fish sauce and personal taste. With the stock still at a simmer, turn off the heat and add the sliced beef, onion, and noodles. Stir until the beef is just cooked. Place some of tomato, scallions, and jalapeno pepper into 4 large soup bowls. Ladle the hot soup on top of the vegetables. Place the remaining vegetables along with the chopped cilantro, basil, mint, and limes on a large plate and allow your dinner companions to flavor their own soup. Add hoisin to taste.
NOTE: To make this with chicken, thin-slice a cooked breast and use chicken stock; to make it with shrimp, chop the cooked shrimp and use fish or vegetable stock.
NOTE: You can even buy a rotisserie chicken and chop the meat up for this soup.