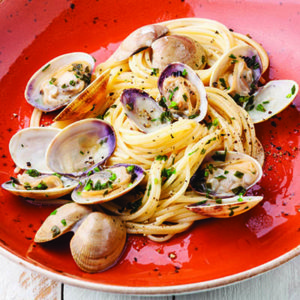 From City Fish Market, Wethersfield, Connecticut
This traditional New England Italian-American dish goes all out in terms of flavor with its fresh clams and strips of sliced Genoa salami blended into the pasta sauce.
Get the scoop on a few of our favorite seafood markets in Connecticut, Rhode Island, and more, and hear local author Mike Urban describe more seafood recipes from his book in this recent episode of The Faith Middleton Food Schmooze®.
Recipe excerpted from The New England Seafood Markets Cookbook by Mike Urban, published by Countryman Press, ©2016. Photo by Lisovskaya/iStockphoto.com, courtesy of the publisher.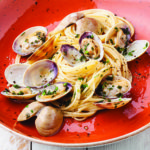 You'll want to serve this dish with crusty bread to sop up the flavorful sauce left in each bowl.
Bring a large pot of salted water to a boil. Add the linguine and cook until it is al dente. Drain the linguine.

Meanwhile, in a large, deep skillet, heat the olive oil. Add the garlic and cook over moderate heat until lightly golden, about 3 minutes. Add the crushed red pepper, clams, and wine and bring to a boil. Add the clam broth, cover, and cook over moderate heat until the clams open, about 5 minutes. (Remove any clams that don't open.)

Add the linguine, salami, and parsley to the clam sauce, and toss over low heat until combined. Transfer the linguine mix to shallow bowls and serve immediately.