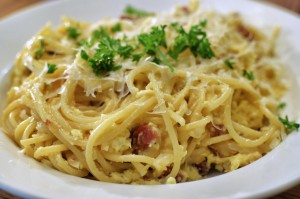 This satisfying, filling, and delicious recipe is from the cookbook Healthy Pasta by Joe Bastianich and Tanya Bastianich Manuali, children of Lidia Matticchio Bastianich. And it's only 460 calories per serving. The secret to this dish is the center-cut bacon. It's flavorful and has fewer calories and less fat than regular bacon. Mangia!
Buy Joe and Tanya's book and support The Faith Middleton Food Schmooze® at the same time during WNPR's fund drive. Thank you!
Bring a large pot of salted water to a boil for pasta. In a large skillet over medium heat, add the olive oil. Add the bacon and until crisp, about 5 minutes. Remove to a paper towel to drain. (There should not be too much excess fat in the pan, because center cut is leaner, but if there is more than 3 tablespoons in the pan, pour off the excess.)

To the fat in the pan, add the onions and balsamic vinegar and stir. Cook, stirring often, until the onions are a deep golden, 20 to 25 minutes, adjusting the heat as you go if it looks like the onions are burning.

When the onions are caramelized, make a space in the pan an add the thyme and tomato paste. Cook, stirring the tomato paste in that spot until it toasts and darkens a shade or two, about 2 minutes. Stir into the onions and add the olives and white wine. Bring to a boil and cook until the wine is syrupy, about 1 minute. Add 1 cup pasta water and simmer while you cook the pasta.

Add the linguine to the boiling water. when the sauce is ready and the pasta is al dente, stir the parsley and reserved bacon into the sauce. Remove the pasta with tongs and add directly to the sauce, reserving the pasta water. Toss to coat the pasta with the sauce, adding a splash of pasta water if the pasta seems dry. Remove the skillet from the heat, sprinkle with grated grana padano, toss, and serve.