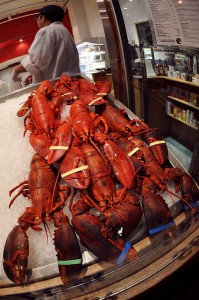 I love this recipe, created by Jane Coxwell, author of Fresh Happy Tasty. Her clients crave delicious food without a crazy amount of calories. Jane's creative way to provide dishes like this earned her a fascinating position. While specializing as a "yacht chef," Diane von Furstenberg and husband Barry Diller tasted her food and hired her permanently as chef of the couple's yacht EOS.

If you're not using cooked lobster tails, preheat the oven to 350°F.

Place the lobster tails, olive oil, wine, dill and salt and pepper to taste in a foil pouch. Bake for a bout 20 minutes, checking after 15 minutes, until the lobster is just cooked through and opaque in the middle. Let cool.

Cook the quinoa in boiling water for 15 minutes and drain. Return to the saucepan over low heat; stir for 1 minute with a wooden spoon to remove the excess water.

Place the warm quinoa in a large glass bowl and mix in the tomatoes, mayonnaise, garlic, onion, horseradish, Tabasco, and lemon juice.

While the lobster is still warm, add it to the quinoa, gently breaking up the lobster meat into manageable-size pieces. (If you have precooked lobster, break it up and add it here.) Mix in the herbs to that they all fuse together nicely and the flavors meld. The rough edges of the lobster will help it soak up the other flavors.

Set aside to cool to room temperature of cover and refrigerate until you're ready to serve. Just before serving, add some more lemon juice, salt, pepper, and agave to balance.