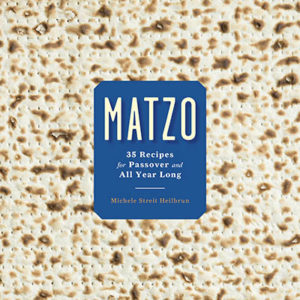 Don't be intimidated by the spaetzle-making here. David Kirschner assured us that the colander method makes this quite easy. This nutmeg-scented spaetzle was designed to be served with this long-cooked point-cut brisket.
Excerpted from Matzo by Michele Streit Heilbrun and David Kirschner. Published by Clarkson Potter. Copyright © 2017 Michele Streit Heilbrun, Photography Copyright © 2017 Jennifer May.
ON-DEMAND: Listen to Faith and co-author David Kirschner talk about this recipe as well as others in the book Matzo.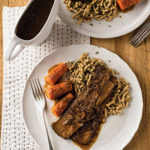 Bring a large pot of salted water to a boil over high heat. Make an ice bath in a large bowl and set near the stove.

In a medium bowl, mix the cake meal, eggs, salt, stock, and nutmeg until smooth, sticky dough forms. Set in a colander with 1/4-inch holes (or a spaetzle maker) over boiling water and, using a rubber spatula, push one-third of the dough at a time through the holes into the pot. The spaetzle will instantly float. Stir them around to prevent them from sticking together. Cook for 45 seconds before scooping them into the ice bath. Drain the spaetzle well and store in an airtight container in the refrigerator for up to 3 days.