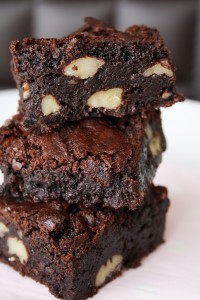 These aren't Italian, as Nancy Harmon Jenkins freely admits, yet she couldn't resist the challenge of substituting olive oil for butter; she's deservedly proud of the result. Jenkins is author of Virgin Territory, a history of olive oil in the Mediterranean and recipes featuring olive oil.

Preheat the oven to 350°F. Butter an 8-inch square baking pan.

Break up the chocolate in small pieces into an ovenproof bowl or pan and set it in the oven to melt thoroughly. When it is completely soft, combine it with the olive oil, beating with a fork to mix thoroughly. Let cool.

Beat the eggs until they are thick and foamy, then beat in the sugar, about 1/4 cup at a time. When the sugar is thoroughly incorporated and the chocolate mixture has cooled down, combine the two, stirring them together with a spatula or wooden spoon (do not beat).

Using a rubber spatula, stir in the flour, vanilla, and walnuts. Spread the mixture in the prepared brownie pan and transfer to the preheated oven. Bake for about 25 minutes, or until the edges start to pull away from the pan. Remove from the oven and set on a wire rack to cool completely before cutting into squares.