Nicholas Bennett of Porchlight in New York dreamed up this remarkable drink, which draws out the floral, peppery character of aged tequila by pairing the spirit with a little good olive oil. While the drink also includes a whole egg, which helps the flavorful oil to emulsify properly, this is nothing like heavy eggnog. Instead, it's remarkably light and subtle on the palate. As far as the oil goes, it's worth it to use your best. As Bennett notes, "You're going to be drinking it, not cooking in spices or garlic and onions. Invest in something nice!" Instead of bland refined sugar, use demerara or turbinado (such as Sugar in the Raw) for extra body and flavor.
SIMPLE SYRUP: IT'S SIMPLE: Many folks are intimidated by the idea of simple syrup. It's time to get over our fears: no one wants a grainy mouthful of sugar in their drink. Plus, making simple syrup is actually crazy easy, especially if you happen to have a resealable jar (such as a mason jar) around. For 1:1 simple syrup, add equal parts sugar and hot water, seal, and shake until dissolved. Let cool before using and store for up to several weeks in the fridge.
— Maggie Hoffman
•ON-DEMAND: Listen to Faith and Maggie talk about this recipe, as well as many other fun cocktail recipes from Maggie's book •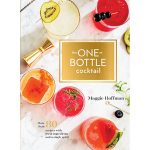 Excerpted from The One-Bottle Cocktail by Maggie Hoffman. Published by Ten Speed Press, an imprint of Crown Publishing Group, a division of Penguin Random House LLC. Copyright © 2018 by Margaret Jane Hoffman. Photographs copyright ©2018 by Kelly Puleio.

Combine tequila, lemon juice, simple syrup, olive oil, salt, and egg in a cocktail shaker and shake vigorously without ice until emulsified, about 20 seconds. Fill shaker with ice, reseal, and shake vigorously until well chilled and very frothy, about 30 seconds. Double-strain into a chilled wine glass. Garnish with star anise.