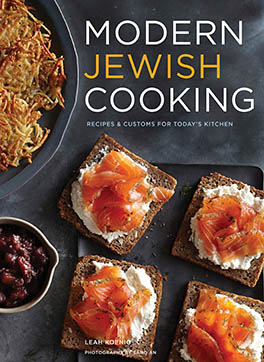 Time was, when dessert rolled around after the Passover seder, people would dutifully choke down flavorless sponge cakes, tinned macaroons, and alarmingly neon jellied fruit rings as if it were part of their holiday obligation. My mom's family used to call these sweet atrocities "Pesadrek," a combination of the Hebrew name for Passover, Pesach, and the Yiddish word drek. (Look it up.) But dreadful Passover desserts are increasingly becoming a thing of the past. Take this moist, full-bodied cake.
Reprinted with permission from Modern Jewish Cooking, ©2015 by Leah Koenig. Published by Chronicle Books, LLC.

Preheat the oven to 350°F/180°C and lightly grease an 8-in/20-cm square baking pan

Mix together the pecans, brown sugar, cinnamon, and nutmeg in a small bowl.

In a stand mixer or using a handheld electric mixer fitted with a whisk attachment and a large bowl, beat the eggs on medium speed until well combined and bubbly, 1 full minute. Add the granulated sugar, 2 Tbsp at a time, beating until the mixture is thick and billowy. (The gradual additions impact the cake's final texture.) Add the vegetable oil in a steady stream, followed by the vanilla, and beat until combined. Add the matzo cake meal and beat on low speed until just combined.

Pour about half of the batter into the prepared pan. Sprinkle with half of the pecan mixture and arrange about half of the pears on top. Add the remaining batter, smoothing the top with a rubber spatula. Top with the remaining pears, followed by the remaining pecan mixture.

Bake until a tester inserted into the center comes out clean, 60 to 75 minutes. (Start checking with the cake tester at 60 minutes, then every 5 minutes after that, as necessary). Transfer to a wire rack and let cool completely before slicing and serving.