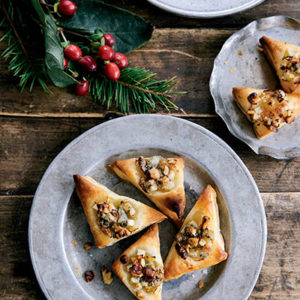 Here we have a proven flavor combination (pear, walnuts, blue cheese, and herbs) in an easy-to-make appetizer that you can prepare with minimal time and effort. What's not to love?
Recipe and text by Amy Traverso. Excerpted from Yankee magazine. Photo by Elizabeth Cecil, Food & Prop Styling by Molly Shuster.
ON-DEMAND: Listen to Faith and Amy talk about this recipe as well as another holiday-worthy dish from the magazine on The Faith Middleton Food Schmooze.

Preheat oven to 375° and set a rack to the upper third of the oven. Unwrap the puff pastry and lay on a lightly floured cutting board. Cut the sheet into 16 squares, then halve those squares diagonally to make 32 triangles. Arrange each triangle about 1/2 inch apart on a baking sheet.

Sprinkle equal portions of pear in the center of each triangle, then top with equal parts Gorgonzola and walnuts. Bake until puffed and golden, 15 to 20 minutes. Sprinkle all over with thyme and serve warm.