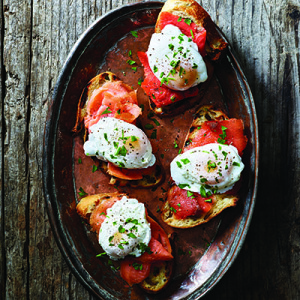 Although many folks want a week­end breakfast or brunch to be on the sweet side, with pancakes or waffles, I typically head in a savory direction. I love the combination of an earthy, rich tapenade mayonnaise smeared on a slice of grilled olive bread, topped with some smoked salmon and a perfectly poached egg. When you cut into the egg, the runny yolk soaks into the crusty bread. Each bite is a savory delight, especially with the addition of smoked salmon.
— Diane Morgan
Reprinted with permission from Salmon: Everything You Need to Know + 45 Recipes, by Diane Morgan, ©2016, published by Chronicle Books. Photography ©2016 by Leigh Beisch.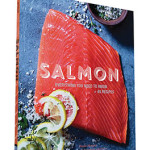 Want More? Read about Diane's book, get more recipes for salmon, and listen to this recent Food Schmooze® episode to hear Diane share more tips for cooking salmon.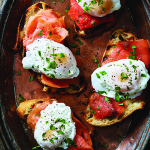 No rich hollandaise sauce is needed here; the runny yolk is the perfect sauce.
For the Tapenade Mayonnaise
TO MAKE THE MAYONNAISE: In a small bowl, combine the mayonnaise, parsley, tapenade, and a few grinds of pepper and mix well. Set aside.

Heat an indoor grill or a stove-top grill pan or ridged griddle until hot. Brush both sides of each bread slice with a little olive oil. Grill the bread on both sides until nice grill marks appear. Set aside.

Pour water to a depth of about 2 in [5 cm] into a large, straight-sided sauté pan and bring to a boil over high heat. While the water is heating, spread each slice of grilled bread on one side with some of the prepared mayonnaise, then lay two salmon slices on top of each bread slice. Divide the bread evenly among warmed plates. Set aside.

Crack each egg into a separate small bowl. (I use little ramekins or Pyrex cups.) Line a large, flat plate with a double thickness of paper towel. When the water is boiling, add the vinegar and salt. Adjust the heat so the water is at a simmer, not a rolling boil. Carefully slip the eggs, one at a time, into the water. After 2 or 3 minutes, use a slotted spoon to lift an egg to see if the white has completely set. If it has, one at a time, remove the eggs with the slotted spoon and set them on the prepared plate. Working quickly, use kitchen shears or a paring knife to trim any ragged edges or "tails" from the whites.

Set a poached egg on each slice of prepared bread. Garnish each open-face sandwich with a generous sprinkling of the parsley and a couple of grinds of pepper. Serve immediately.