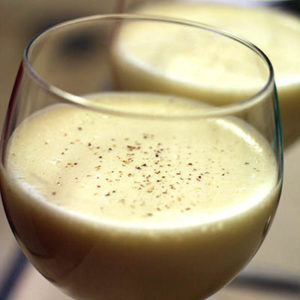 When we want a festive drink for a holiday (or any time, really) Anthony DeSerio is our go-to. In this homemade eggnog (an homage to Prohibition Repeal Day) Anthony separates the yolks and whites and whips them separately, resulting in the freshest tasting nog you've ever sprinkled nutmeg over. Made us want to celebrate BOTH the end of Prohibition AND the craft of Anthony DeSerio. Cheers!
ON-DEMAND: Listen to Faith and Anthony talk about this recipe on The Faith Middleton Food Schmooze.
Photo: Isaac Wedin/Flickr, creative commons

In a large bowl, beat together the egg yolks and 1/2 cup of sugar until they turn light in color. Stir in the milk and heavy cream. Slowly whisk in both rums. Set aside for 20 minutes to allow the alcohol to "cook" the yolks.

In a separate bowl, beat the egg whites with the remaining 1/4 cup of sugar until they form soft peaks. Fold the egg whites into the yolk mixture.

Serve topped with freshly grated nutmeg in punch or teacups.