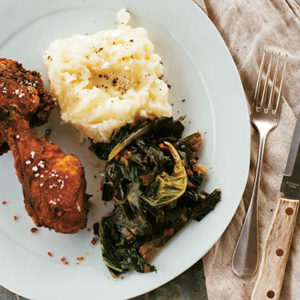 Fried chicken on the table in forty-five minutes? Here it is, the quick recipe. I serve it with Chunky Mashed Potatoes and Braised Collard Greens. The boys love it.
Excerpted from Mad Hungry: Feeding Men & Boys by Lucinda Scala Quinn (Artisan Books). Copyright © 2009. Photographs by Mikkel Vang.
Read our book review to see more recipes from Lucinda's book.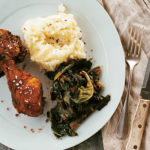 In a 9 x 13-inch baking dish, stir together the buttermilk and Tabasco. Submerge the chicken parts in the mixture and leave as long as possible, at least 10 minutes (but up to overnight—in the fridge—is even better).

In a plastic or paper bag, combine the flour, salt, black pepper, and cayenne.

Shake the chicken parts, 2 or 3 pieces at a time, in the flour. Repeat with the remaining chicken. Shake off the excess flour. In a 14-inch skillet (or two smaller skillets), heat 2 inches of oil over high heat until very hot. Test with a tiny bit of chicken skin. If the oil bubbles immediately, it is hot enough.

Place the chicken into the hot oil. Evenly distribute as many pieces as will fit in one layer in the pan, leaving 1/2 inch between pieces, and leave to fry undisturbed for about 15 minutes. Lower the heat as necessary to prevent excessive browning before the meat is cooked properly; the oil should continue to bubble steadily. Turn the pieces and cook for an additional 15 to 20 minutes.

Remove to a rack to drain. Repeat the process to cook all the chicken. To keep the first batch warm, place on a rimmed baking sheet in a 200°F oven. Sprinkle with salt and serve.