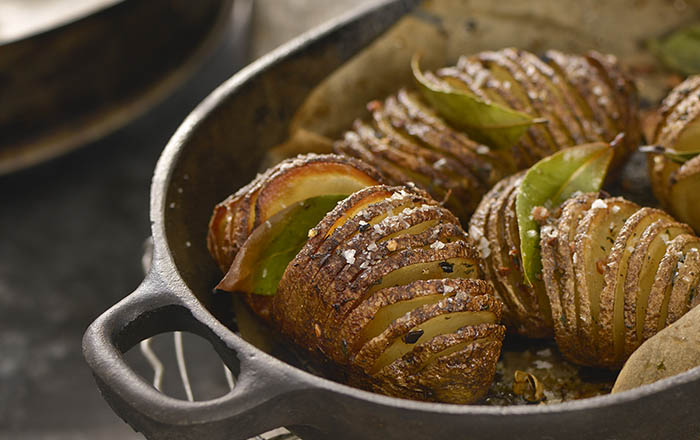 Created in the eighteenth century by a chef at the Swedish restaurant Hasselbacken, this accordion display of the common potato is perfumed with cardamom (a spice often incorporated in Christmas fare in Sweden) is my take on the classic. Crispy on the outside with a crackly pork-like skin, the creamy insides make for a delectable contrast in textures.
ON-DEMAND: Listen to Faith and Raghavan Iyer talk about this recipe, as well as other recipes from Raghavan's book.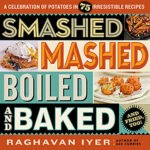 Excerpted from Smashed, Mashed, Boiled, and Baked – And Fried, Too! By Raghavan Iyer. Published by Workman Publishing Co., Inc. Copyright © 2016 Raghavan Iyer. Photo by Matthew Benson.

Position a rack in the lower half of the oven and preheat the oven to 375°F. Line a baking pan or pie plate with parchment paper if you don't want to deal with any cleanup mess.

Scrub the potatoes well under cold running water. Wipe them dry with paper towels. Slice each potato crosswise into ¼-inch-thick slices, making sure you do not cut through the bottom. You want all the slices to stay attached. Grease the potatoes all over with a bit of the butter and place them in the baking pan. Slip a bay leaf between 2 of the slices in each of the potatoes, if desired.

Roast the potatoes until the slices open out a bit, exposing more of the potato flesh, about 20 minutes.

As the potatoes roast, melt the remaining butter in a small skillet over medium heat. Once the butter foams, add the garlic and cardamom. Allow the two to flavor the butter with their pungent and sweet presence, 1 to 2 minutes. Remove the pan from the heat and sprinkle in the thyme, salt, and peppercorns. Give it all a good stir.

Once the potatoes have opened up a bit after the initial roast, brush them liberally with the spiced butter. Continue to roast the potatoes, brushing and basting them periodically, until the potato slices fan out and the insides are tender when pierced with a knife, an additional 45 to 50 minutes. Make sure to use up all the butter.

Serve the potatoes while they are still hot.
Tater Tip: You want the bottoms of the Hasselback Potatoes to stay whole to support the fanning of the slices as they roast. If it is hard for you to slice the potato because it is rocky, slice a small, thin section off the bottom so you have a stable base. This will help you cut more evenly without worrying about the potato moving. Placing a chopstick on either side of the potato before you slice it also prevents you from cutting through (the knife will be stopped by the chopsticks before you cut completely through).