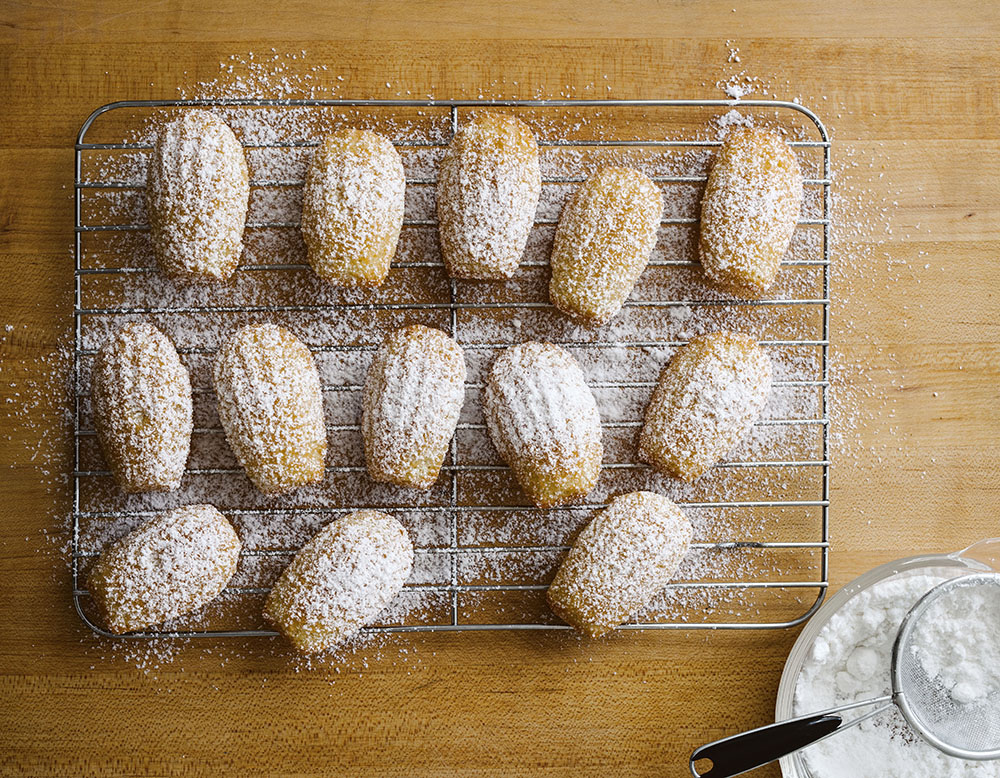 My well-connected pal Elaine Chon-Baker sent me a text letting me know that my idol, French chef Jacques Pépin, was in Washington,  DC, for an interview and book signing at a Smithsonian museum that evening. She had an extra ticket for me if I could get there in  time, and asked if I could bring some snacks for the Pépin family to enjoy before they went onstage. We made Buttermilk Chocolate  Chewies and, at the last moment, I thought to add authentic madeleines, the traditional butter cookie, for Jacques.
It was a gutsy move baking these for the best French chef around, but I learned to make them from chef Mark Ramsdell of L' Academie  de Cuisine. Mark had been trained by White House chef Roland Mesnier, who gave us the original recipe, and it was one of my  favorites. I was elated when Jacques pronounced them "terrific!" and his daughter (and TV costar), Claudine Pépin said they were the  best she's ever had.
Use a metal madeleine pan (we prefer the ones without the nonstick coating) with twelve wells, each about 3-1/4 by 2 inches. The  pans are available online at williams-sonoma.com. Note that if you have only a single mold, you have to thoroughly clean and re-prep  it before making the second batch of madeleines.
— Brian Noyes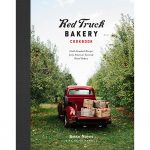 Excepted from Red Truck Bakery Cookbook, by Brian Noyes © 2018. Published by Clarkson Potter Publishers. Photos © 2018 by Andrew
Thomas Lee.
Coat two madeleine pans with nonstick spray, then brush each mold lightly with the melted butter. Chill the pans for 30 minutes, then sprinkle flour into the molds, tapping out any excess. Return the pans to the refrigerator until ready to fill and bake.

In the bowl of a stand mixer, whisk together by hand the granulated sugar and lemon zest. Let sit for a few minutes to allow the citrus flavor to infuse the sugar. Add the remaining 1/2 cup softened butter and, using the paddle attachment, cream on medium speed until light and fluffy, about 3 minutes. Add the vanilla and mix until blended. Add 1 egg and mix until combined.

In a medium bowl, sift together the flour, salt, and baking powder. Add half the flour mixture to the butter-sugar mixture and beat on low until combined, about 1 minute. Add the remaining egg and mix well. Mix in the remaining flour mixture on medium speed, stopping to scrape down the sides of the bowl as needed, until thoroughly combined, about 1 minute.

Preheat the oven to 350°F.

With a large spoon and a spatula, scoop the batter into a large piping bag (see Tip in Recipe Note). Chill in the refrigerator for a few minutes.

Remove the prepared madeleine pans from the refrigerator. Pipe the batter into the molds, filling each two-thirds full, starting at the bottom of the shell shape and running a line of batter up to the top end of the shape, then doubling back halfway to create the bump that signifies a proper madeleine.

Bake for 8 to 10 minutes, until just golden brown. Quickly remove the cookies from the molds by turning them over and shaking them out onto a raised wire rack. You may need to use the tines of a fork to gently release them. When cooled, lightly sift confectioners' sugar onto the shell side of the madeleines. Store in an airtight jar or plastic bag for up to 3 days, or freeze in a plastic bag for up to 3 months.
Tip: To make a makeshift piping bag, trim one corner off a gallon-size-zip-top bag with scissors to create an opening between 1/4 and 1/2 inch wide.