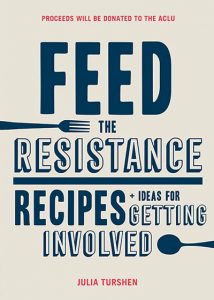 This incredibly flavorful cauliflower is one of my favorite vegetarian dishes since it's so filling. The yogurt and assertive spice combination give the cauliflower an enormous depth of flavor and a really rich texture. This also is incredibly easy to make and I love that you get to use the yogurt for both parts of the dish. If you want to save yourself some cleaning, line the hot sheet pan with parchment paper before you put the cauliflower on it. I find that you get less crispy bits when you do that, though, so I just soak the pan afterwards and call it a day. For a complete meal, serve this with white or brown rice, quinoa, or warm flatbread and a platter of sliced cucumbers that you've drizzled with lemon juice and sprinkled with salt.
— Julia Turshen
• ON-DEMAND: Listen to Faith and Julia describe this recipe on an episode of The Faith Middleton Food Schmooze®. •
From Feed the Resistance by Julia Turshen (Chronicle Books, 2017).
Preheat the oven to 425°F [220°C]. Place a sheet pan in the oven to heat up.

Meanwhile, place 1/2 cup [113 g] of the yogurt in a large bowl with the olive oil, garlic, turmeric, cumin, cayenne, and 1/2 tsp of salt and whisk well to combine. Add the cauliflower and mix well so that each piece is coated.

Once the oven comes to temperature, place the cauliflower on the hot sheet pan in an even layer. Roast, stirring the cauliflower once or twice while it's in the oven, until it's softened and gorgeously browned, about 25 minutes total. Season the cauliflower to taste with salt.

Meanwhile, place the remaining 1/2 cup [113 g] yogurt in a small bowl with the lemon or lime juice, mint, and 1/2 tsp of salt and whisk well to combine.

Serve the cauliflower hot or at room temperature with the minted yogurt spooned on top.