Star Home Cook Sally Searby's Lemon Drizzle Cake is an explosion of bright lemon flavor. There's lemon juice and zest in the cake, the lemon curd filling, and the sugary drizzle topping. Sally now lives in Greenport, NY, but she's originally from England. Baking her mom's cake recipes remind her of her childhood home, where almost everything could be solved over tea and cake.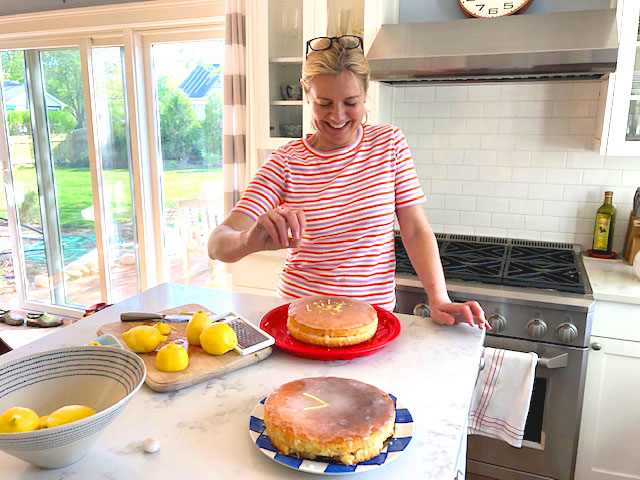 Preheat the oven to 170C/325F/Gas 3.

Measure all the cake ingredients into a mixing bowl and beat until you have a smooth, creamy consistency. (Tip: Sift the flour over a bowl from a height so it is very light.) Divide the mixture evenly between the two 7-inch round baking tins and bake them on the center shelf of the oven for about 30 minutes or until the centers feel springy when lightly touched.

While the cakes are cooking, make the lemon curd. Place the sugar and grated lemon zest in a bowl, whisk the lemon juice together with the eggs, then pour over the sugar-zest mixture. Then add the butter cut into little pieces, and place the bowl over a pan of simmering water. Stir frequently until it gets thicker- about 20 minutes.

When the cakes are cooked, remove them from the oven and after about 30 seconds turn them out on to a wire rack. When they are absolutely cold, spread the curd thickly and put one sponge on top of another.

For the icing, zest and juice a large lemon. Put zest aside. Put the sugar into a bowl and gradually stir in 2-3 teaspoons lemon juice until you have a runny consistency.

Spread it on top of the cake with a knife, almost to the edges of the cake. Then scatter the lemon zest over the top and leave it for half an hour for the icing to set before serving.