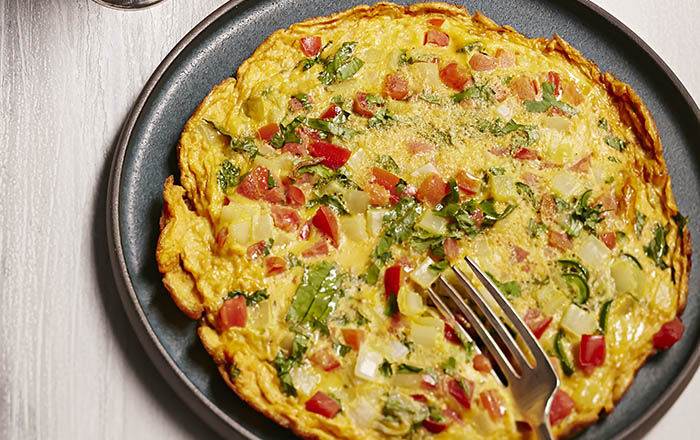 This dish always reminds me of my days as a young college student when I often traveled overnight on Indian Railways to visit far-off cities. When the trains pulled into stations at dawn, vendors ran up and down the tracks shouting out the names of the foods they were hawking: "Vada pao!" "Garam chai!" and "Masala amlate!" Those masala omelets were almost white, with just a trace of turmeric, and bits of onion, green chile, and cilantro lightly sprinkled in. After a night of sipping Indian rum, this basic meal was a welcome remedy at 5:00 a.m.
After I came to the United States, that omelet became a favorite breakfast for me, and it remains so on Sunday mornings or on any day when I know I will not be eating lunch until late. I have adapted the recipe to make it more nutritious and wholesome by adding about five times more vegetables (although it's still a pretty good morning-after cure). When my son Peter makes it for a post-workout meal, he takes it even further in that direction by adding spinach, thinly sliced zucchini, or chopped asparagus to the tomatoes and onions.
Now this longtime favorite of both my family and me has a little extra glamour attached to it, compliments of Hollywood. When the director of the film The Hundred-Foot Journey, on which I was a consulting chef, asked me for an omelet for one of the pivotal scenes in the film, I gave him an only slightly altered version of this one.
Excerpted from Floyd Cardoz: Flavorwalla by Floyd Cardoz (Artisan Books). Copyright ©2016. Photographs by Lauren Volo.
Listen to Floyd's recent appearance on The Faith Middleton Food Schmooze® and get more recipes from Flavorwalla.

In a large bowl, combine the tomatoes, onions, cilantro, chile, turmeric, cayenne, and salt and black pepper to taste and mix well. Divide into 6 equal portions.

In a small bowl, combine 2 eggs and one portion of the vegetable mixture and mix well with a fork. Heat 1-1⁄2 teaspoons of the oil in a medium nonstick pan over medium heat. Add the egg and vegetable mixture and spread evenly. Reduce the heat and let the eggs cook until set, about 15 minutes.

Increase the heat and flip the omelet in the pan. (Or, if it's easier, just fold it in half.) Cook until firm, 2 to 3 minutes. Transfer to a plate and serve.

Repeat with the remaining eggs, vegetables, and oil, serving each omelet as soon as it comes out of the pan.
Cooking time: 15 to 20 minutes for the first omelet and about 10 minutes for each subsequent one