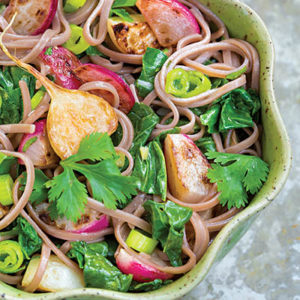 Japanese turnips are a revelation; crisp and almost sweet, these little spring beauties are nothing like fall globe turnips, and the greens are light and delicious. You can eat Japanese turnips raw or lightly steamed, but they also shine in a stir-fry like this one, paired up with their garden buddy, radishes (which are also surprisingly delicious cooked—and yes, their greens are edible). This noodle dish is also a great template: replace the turnips and radishes with any other spring veg-and-green combo.
— Susie Middleton
ON-DEMAND: Listen to Faith and Susie talk about this recipe and more on The Faith Middleton Food Schmooze®.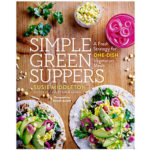 From Simple Green Suppers by Susie Middleton © 2017 by Susie Middleton. Photographs © 2017 by Randi Baird. Reprinted in arrangement with Roost Books, an imprint of Shambhala Publications, Inc.

Bring a medium saucepan of lightly salted water to a boil. Add the soba noodles and cook until tender, about 3 minutes. (Beware of the package instructions, which will tell you to cook them for much longer.) Drain, rinse briefly with cold water, and allow to drain well.

Separate the turnip greens from the roots, and cut the turnip roots into 1/2-inch dice or wedges. You should have about 1 cup (a little more or less won't matter). Separate the greens from the radish roots, then trim the radishes and quarter them, if they are small, or cut into 1/2-inch dice. You should have about 1/2 cup. Trim the lower stems off the turnip greens and discard. Roughly chop the combined turnip greens and radish greens and measure out 2 cups loosely packed.

In a small saucepan, heat 1 cup of water to a very gentle simmer.

Meanwhile, in a large (12-inch) nonstick stir-fry pan, heat the oil over medium heat. Add the diced turnips and radishes and 1/4 teaspoon of salt. Cook, stirring, until all the veggies are slightly browned, about 5 to 6 minutes. Add 1/4 cup of the scallions and the ginger, garlic, and red pepper flakes. Cook, stirring, until fragrant and softened, about 1 minute. Add the 2 cups of chopped greens and cook, stirring, until wilted, about 30 seconds. Remove the pan from the heat.

Whisk the miso into the hot water, then add the mixture to the stir-fry pan. Add the cooked soba noodles, the chopped cilantro, and a splash of tamari. (If necessary, return the pan to low heat for a minute or two to heat everything through.) Transfer to two bowls and garnish with the remaining 1 to 2 tablespoons of scallions and the cilantro sprigs.