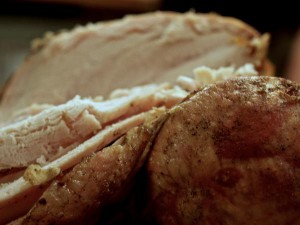 This simple, flavorful spice rub is one of my favorites, and will transform your roast turkey as it cooks sitting atop a bed of fresh rosemary sprigs. The best part is that you can make the rub ahead, then freeze it or store it for when you need it.
When I led a food and wine tour through Napa Valley with a group of WNPR listeners, I arranged for us to meet with chef and author Michael Chiarello, one of my favorite cooks. This is Michael's spice rub recipe, a rub that makes turkey delicious without overwhelming it. (This is what Italians do so well, enhance foods to bring out their best through the use of spices, herbs, citrus and olive oil.)
Michael's take on turkey involves toasting seeds in a pan, putting a fresh lemon in the turkey cavity, and drizzling the bird with extra virgin olive oil. Anyone can make this.
Special thanks to Michael and The Food Network for allowing us to feature his Fennel Spice Rub, which can be used on turkey, latkes, or pork for any party.
Wine? I like this dish served with a dry French sparkling wine because it serves as a counterpoint to what can be an overwhelmingly rich meal. I recommend Albert Bichot's Cremant Brut Rose.

Servings
Makes about 1
-1/4 cups of spice rub
Servings

Makes about 1

-1/4 cups of spice rub
Servings
Makes about 1
-1/4 cups of spice rub
Servings

Makes about 1

-1/4 cups of spice rub
Servings:
-1/4 cups of spice rub
Put the fennel seeds, coriander seeds, and white peppercorns in a heavy dry pan on medium heat. Watch them like a hawk! Stir frequently to be sure the seeds toast evenly; when they are fragrant and light brown, pour the seeds onto a dinner plate and allow them to cool completely, about a half hour to be certain.

Pour the toasted seeds into a blender and add the kosher (not table) salt. Blend the mixture to a fine powder, tapping the blender now and then to make sure all the seeds are pulverized.

If you're making this in advance, store the mixture in a tightly sealed glass jar in a cool dry place, or do what I do—freeze it.

Wash and dry the turkey inside and out. Coat generously inside and out with olive oil. Place two lemon halves in the turkey cavity. Press the spice rub mixture all over the outside of the turkey.

Oil the bottom of a roasting pan. Place 4 rosemary sprigs across the bottom of the pan as a bed, and rest the turkey on top of them. Roast at the temperature recommended for the weight of the turkey.
Note from Faith: You can get the best deal and usually the freshest spices at your local health food market instead of the supermarket. I order twice the amount I need and still it's a bargain because jarred spices can be absurdly expensive, especially around the holidays. Make sure your health food market keeps its spices in covered bins or big jars with lids. Please remember that this spice rub can be made ahead and frozen if you have a lot to do on the big day.