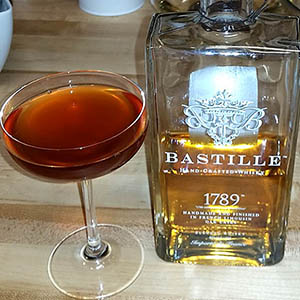 Honestly, one of the best cocktails we've ever had on the show (or anywhere), Anthony introduced us to the Vieux Carre, which means French Quarter (in Anthony's translation, though our listeners let us know that's a pretty loose translation of the French). It's made with a beautiful French whisky, Bastille. We were lucky enough to have its master distiller, Charles Deaucourt, on the show, where he explained that making a unique, hand-crafted spirit like his whisky is part science, part art.
ON-DEMAND: Listen to Faith and Charles discuss how Bastille Whisky is made.

Add ingredients to a shaker or glass.

Strain into a chilled cocktail glass.