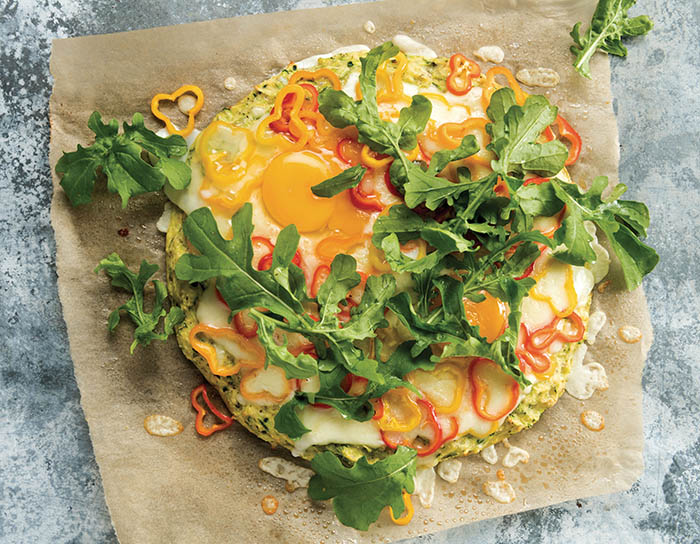 Given that 99 percent of the time I spiralize my zucchini, I often feel odd preparing it any other way. However, a zucchini crust is too good to pass up, especially as used in this breakfast pizza. Unlike a cauliflower crust, zucchini crust is firmer and doesn't break up as easily, so you get a more dough-like consistency. This one is topped simply with melted mozzarella, sweet peppers, and arugula, so you really taste the Italian herb–seasoned crust.
— Ali Maffucci
Not Spiralized / Vegetarian / Gluten-Free
NUTRITIONAL INFORMATION Per serving
Calories 230 / Fat 16g / Sat Fat 6g / Sodium 884mg / Carbs 8g / Fiber 3g / Sugar 4g / Protein 18g
TIME TO PREPARE 15 minutes
TIME TO COOK 20 minutes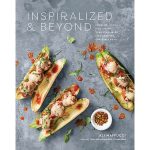 Reprinted from Inspiralized and Beyond. Copyright © 2018 by Alissandra Maffucci. Photographs copyright © 2018 by Evan Sung. Published by Clarkson Potter/Publishers, an imprint of Penguin Random House, LLC.

Preheat the oven to 450 degrees with racks in the top and bottom positions. Line a baking sheet with parchment paper and dust it with almond flour.

Lay out a large piece of cheesecloth or a clean kitchen towel and, using a box grater, grate the zucchini onto the towel. Gather the sides of the cheesecloth or towel and squeeze out excess liquid over the sink. Put the zucchini in a large bowl.

Beat 2 of the eggs and add them to the bowl, along with the almond flour, basil, oregano, garlic powder, ½ teaspoon salt, and a few grinds of pepper. Mix well until it takes on a dough-like texture. If the mixture is too wet, add a tablespoon or two more almond flour.

Transfer the dough to the baking sheet and form it into a 10-inch round or two 5-inch rounds. Lightly spray the crust(s) with cooking spray and bake on the lower rack of the oven for about 15 minutes, until the edges are browned and the crust is firm.

In a small bowl, toss the peppers with the olive oil.

Remove the pizza from the oven and sprinkle with the mozzarella. Scatter evenly with the peppers and carefully crack the remaining 2 eggs on top, nestling them among the peppers. Bake the pizza on the top rack of the oven for about 7 minutes, until the cheese melts and the egg whites are just set but the yolks are still runny.

Garnish with the arugula and drizzle with olive oil. Season with a little more salt and pepper and serve hot.